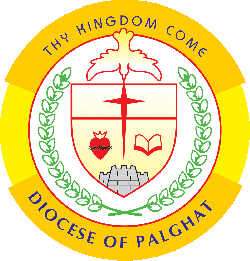 The Eparchy of Palghat was erected on June 20, 1974, through the Decree "Apostolico Requirente", bifurcating the eparchy of Trichur and adding into the territory of the new eparchy a few parishes of the eparchy of Tellichery, which were in the district of Palakkad. It was a suffragan of the Archdiocese of Ernakulam. The eparchy was inaugurated on September 8, 1974. The episcopal ordination of Msgr. Joseph Irimpen and his assumption of office as the first bishop of the eparchy took place on the same day. It is now a suffragan of the Archdiocese of Trichur. The eparchy covers an area of 4480 km sq.km and comprises the civil district of Palakkad in Kerala. At the time of the inauguration of the Eparchy it had a total of 16 parishes and 8 stations. The number of diocesan priests was 14 and that of the faithful was 20810. It has now 56668 faithful, 121 priests incardinated to it and 82 parishes and 43 stations.
By the grace of God the eparchy is today what it is. The Lord has done great things for the people of God of this area through the pioneering and missionary work of the priests, sisters and the laity under the able and inspiring leadership of Mar Joseph Irimpen. After twenty years of dedicated and loving service Bishop Irimpen retired from his office on December 6,1994. Even after his retirement he, true to his motto, spent his time to love and serve. He slept in the Lord on August 23, 1997. Msgr. Joseph Veliyathil served the Eparchy as its Administrator from December 6, 1994 to February 1,1997. Pope John Paul II nominated Bishop Jacob Manathodath, the then Auxiliary Bishop of Ernakulam-Angamaly as the Bishop of Palghat on November 11, 1996. Bishop Manathodath took canonical possession of the eparchy on February 1, 1997. The eparchy of Palghat was bifurcated and a new eparchy namely Ramanathapuram was erected on 18th January, 2010.
The Holy Synod of the Syro Malabar Major Archiepiscopal Church canonically elected, having received the Prior Pontifical assent, Rev. Msgr. Peter Kochupurackal to the Office of the Auxiliary Bishop of the Eparchy of Palghat on 15th January 2020.